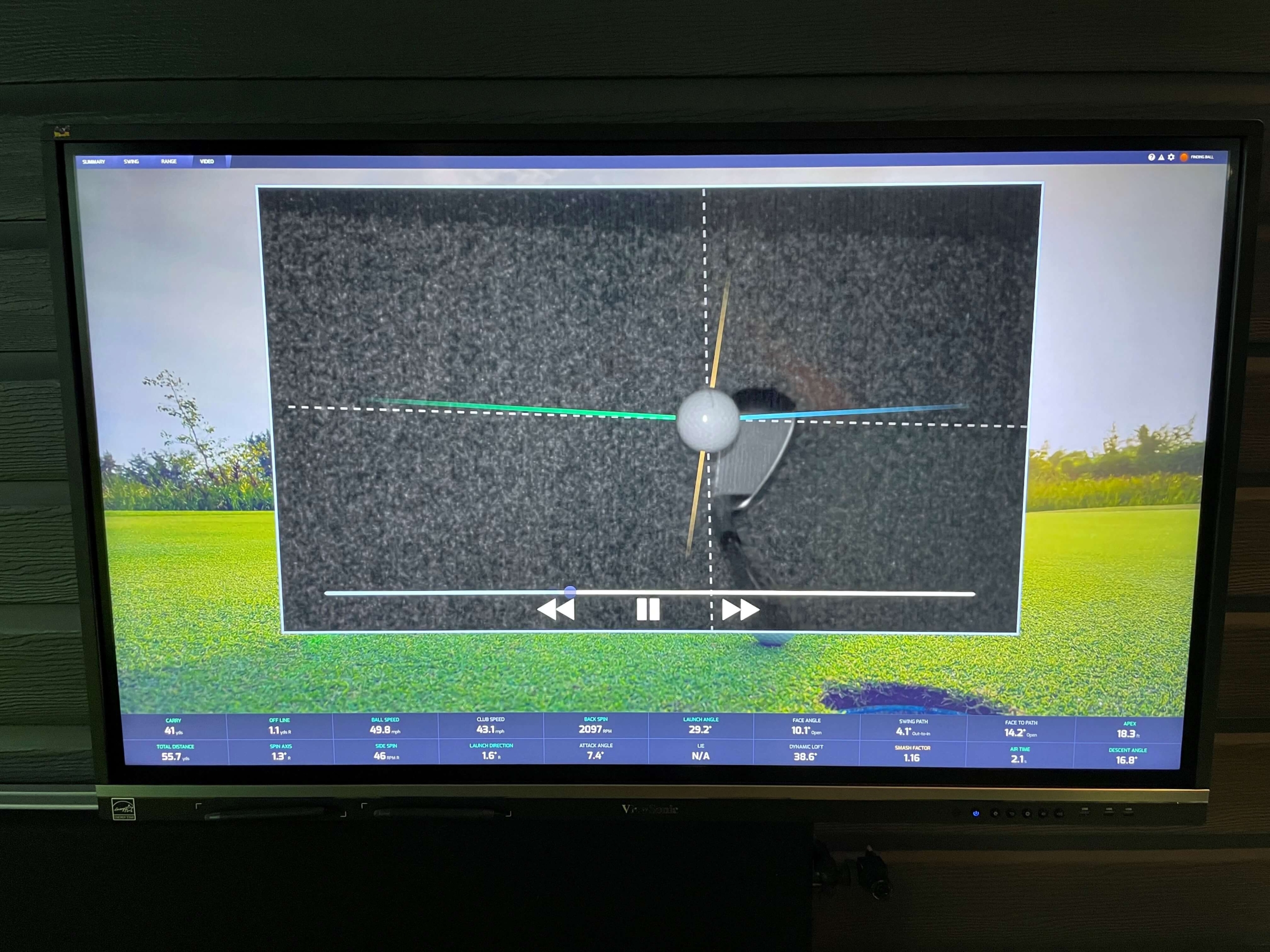 It's been a busy few months with new launch monitors on the market but we have to say we've been very impressed with the new Protee VX launch monitor. Out of the box the data appeared good and the device is stable for continued shots in your Golf simulator.
As a ceiling mounted golf launch monitor the Protee VX is ideal for both right and left handed players if you have the room width for a central ball position. This enables both handed players to drop the ball centrally and hit into the middle of the screen. The Protee labs software automatically detects whether the club is in fact right or left handed and the software shows the relevent club head graphic with the data tracked, a rather clever feature.
As we're talking about club data its important to note that the Protee vx Golf launch monitor does not need stickers on the club face to track. Using Ai the system detects the golf club movement through impact and shows the relevant club path, face angle, impact location and angle of attack. Lie angle will come at a later stage but for now there is some great data that this launch monitor provides.
Now the Ai does have a slight drawback depending how you look at it. Protee are needing more shots to be hit for the Ai to improve. So the more users that purchase the system, the better this launch monitor will get over time. Some may see this as a negative but we actually see the positive in this and like the fact it improves on a daily basis. However don't think for one minute that it means this device is inaccurate, because its not. Out of the box already the system is working really well and the data is consistent. Think of it more as its very small improvements from the Ai as opposed to dramatic ones.
The updated club replay video of impact we believe is a must now in any golf simulator setup. Having the protee labs software on an additional monitor to see this information is the best way to have this setup whilst your impact screen displays your course software, whether it be Gspro, TGC19 or maybe E6. But this club video shows some great lines to show your club path, face angle and ball launch. When its that easy to see what your golf club has done through impact, then its much easier to adjust accordingly. Further more,  a great tool for any PGA golf professional to help coach their students.
One thing that has really stood though are the updates. Protee are wasting no time in continually listening to the feedback of their users with the built in support function to help improve the system and these updates are coming thick and fast. In fact some other golf launch monitor manufacturers could learn a lot from this simple process and the pace of updates/bug fixes is just another reason why we like this device so much.
Customers that have booked into our Oxfordshire showroom have been impressed with the system and its price point. We appreciate that many are sitting on the fence at the moment to see how the Ai pans out, but to be honest from what we've seen so far, that concern is nothing to be worried about.
Our advice as usual is book into our demo centre and come and try for yourself. We believe that many skytrak users will upgrade to this system, and many customers that may have been looking at more expensive launch monitors like Foresight and trackman,  may just see the Protee VX as the sweet spot device.
Related posts
Popular products
Product categories