Uneekor Eye Mini Launch Monitor
Promo Price expires 12:00 on Thursday 28th September. Contact us to pay a deposit to secure a unit at this great price!
Current lead time approx 4-5 weeks
SPECIAL OFFER: Currently when you purchase, you will receive 1 month of Golf Tech Tier 2 Remote Support for free*
With the ability to use at home or on the driving range, the EYE MINI is powerful, reliable, and sleek. Push the boundaries of your game with the EYE MINI.
EYEXO MINI
PLEASE NOTE: With your Eye Mini purchase you will receive a 3 month licence of the PRO Package. When that expires you will move back to the Player Package. If you wish to purchase a further licence this can only be brought from the European Distributor on the following link**
https://www.golfsimulator.shop/Uneekor-EyeMini-License-Packages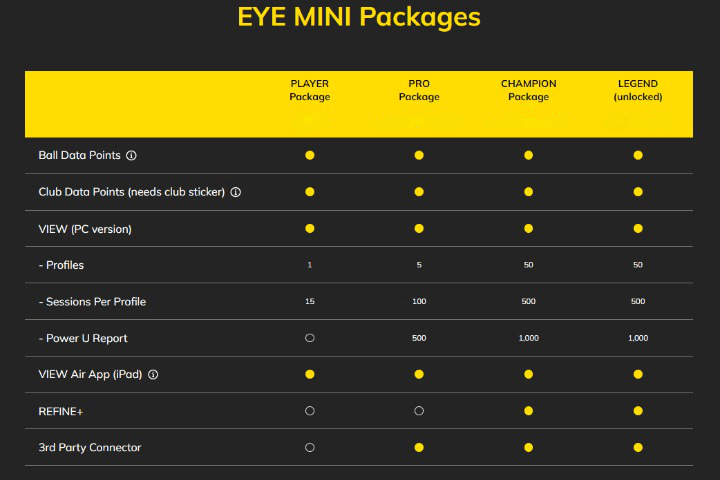 Portable, Powerful, Reliable
EYE MINI integrates seamlessly with our View Software to bring insight wherever EYE MINI goes
Pair EYE MINI with Uneekor's all popular accessories to create the ideal golf training ecosystem
EYE MINI utilizes our Ball Optix technology in a whole new way to provide accurate and reliable club data
Portable Launch Monitor
Uneekor's EYE MINI's incredibly simple, sleek, and powerful design provides club and ball data whether you're at home or on the range.
View Software App
The EYE MINI comes standard with our View software app for your PC and iPad app. Easily pair your iPad with the EYE MINI to bring our powerful software anywhere.
Club Optix
EYE MINI provides a new angle to our Club Optix™ technology. Club Optix™ allows you to view how your club moves before, during, and after impact in real-time
EYE MINI Club Stickers
Reflective EYE MINI Club Stickers are the must-have accessory for your EYE MINI launch monitor Place the easy-to-apply sticker on your club face to capture the most comprehensive & accurate club data in the industry
Whats Included:
EYE MINI Launch Monitor
EYE MINI Carrying Case w/ Carrying Strap
View Software for PC and View iPad app****
Power Cable and Adapter
CAT6 Ethernet Cable
EYE MINI Club Stickers
Minimum Pc Specifications:
AMD: 3rd gen Ryzen or higher and AMD Ryzen 3600X or higher (AMD 2700 is not compatible)
Not compatible with MacOS
Intel i5 8400
8 GB RAM (16 GB RAM for Swing Optix)
GeForce GTX 1060**
Windows 10 (64 bit) Version 1803 or higher***
Integrated ethernet port required
View Software for iPad: ****iPad Requirements Coming Soon!
Please note that specifications are subject to change without prior notice.
*Please see our support page for more information on Golf Tech Remote support services before you purchase. Information regarding support for Uneekor Devices can be found at www.uneekor.eu or through the relative facebook group pages if you do not take out a Golf Tech Remote Support Contract
**Golf Tech Systems have no control over licence purchases, implementation and licence pricing for the Eye Mini.